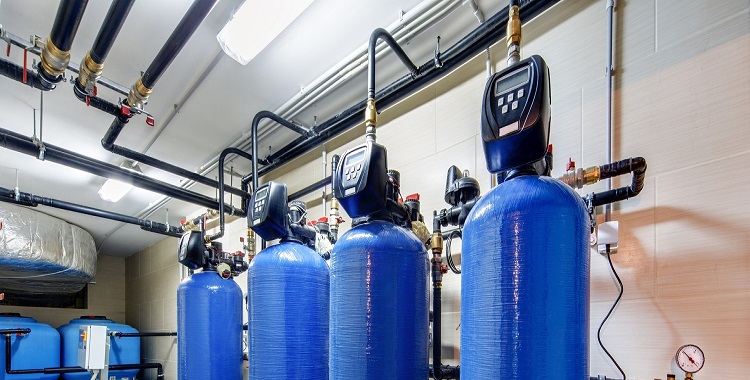 REVERSE OSMOSIS (R.O).
we offer wide variety of products used in Industrial RO System such as portable water generation, Brackish water, sea water desalination and effluent recycling etc. We bring a combination of RO & UF system for power plant, pharmaceutical & high quality process water. Neutech offers wide range of packaged drinking water system ( mineral water plant ). For large scale plant complete turnkey solutions offers. This system involves high pressure separation process using semi-permeable membrane which separate and remove dissolve solid, organics, micro colloidal matter, viruses and bacteria from water and Capable to remove 90 to 99% of Hardness, TDS and give pure water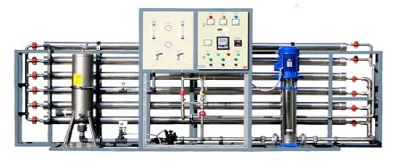 ---
WATER SOFTENER
The Clean Aquato Series Water Softening Plants are designed to produce treated water to suit for various application. Treated water is of consistent quality with low residual hardness throughout the service cycle.
We are an able manufacturers and suppliers of a wide range of high quality Water Softening System. Engineered in accordance to ion based technology these products are capable of removing calcium and magnesium ions from water and are available with multiports. These products are available in different shapes, sizes and are built up of different materials like MS, HDPE and FRP materials and are automated, semi-automated and manually operated machines.
The high synthetic resin is used to exchange Sodium ion with hardness forming Calcium and Magnesium ions. After producing desired output, the resin is regenerated with [NaCl] Sodium Chloride solution after which unit is again ready to deliver next batch. Clean Aquato Series units are available with different models. The difference between these models is in the capacity of the resin used for each model. These units are easy to operate and maintenance free. These models are available to produce various capacity upto 200 Cu. Mtrs per hour maximum.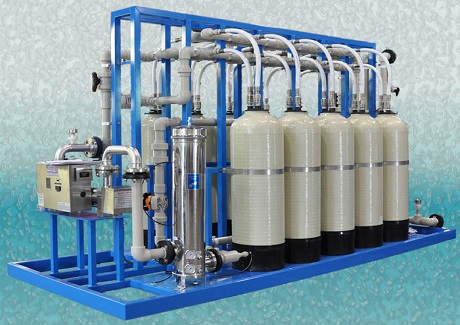 Applications
Apartments/Condominiums
Boiler Feedwater
Car Washes
Food Processing Plants
Hospitals
Laundries
Manufacturing Plants
Office Complexes
Restaurants
Advantages:
High efficient regeneration
Lesser power consumption
Higher quantity of soft water per regeneration
Consistently lesser residual hardness in the water
SPECIFICATIONS :
One mild steel pressure vessel painted internally with black bitumen anti corrosive paint and externally with red oxide primer with proper distribution and collection system for service and regeneration cycle.
One set of frontal pipework with valves and ejector to carry out normal operation and regeneration cycle.
One Complete Charge of cation exchange resin.
One Salt tank of HDPE with fitting and brine filter media.
One test kit of monitor raw and treated water hardness.
APPLICATION:
Boiler Feed
Cooling Tower Make-Up.
Air Conditioning Plant.
Textile Processing.
Beverage Production.
Hospitals, Hotels, Laundries, etc.
---
PRESSURE SAND FILTRATION
Sand filters offered by us are used to filter the effluent that is low in suspended solids, these are specially designed filters for industrial and domestic use in trapping turbidity and suspended impurities from raw water up to 15 micron size or more. The system works on the filtration process that comprises passing water effluent through filter medium, which strain out colloidal particles such as fine sand, anthracite or earth particles. This is achieved by the unique internal distribution system which allows filtration at relatively high flow rates which range from a mere 250 Ltrs/Hr. to 3,00,000 Ltrs./Hr.
Applications of sand filters which are mentioned below:
Pharmaceutical product water
Dairy & food products
Beverages
Package drinking water
Cosmetics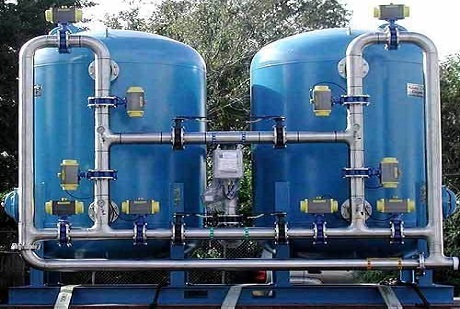 ---
PRESSURE CARBON FILTRATION
Our range of activated Carbon Filter is used for effectively removing free chlorine, phenol, taste and odor as well as reducing COD and BOD from water. These are manufactured using Stainless Steel, Mild Steel, FRP closed vessel incorporating frontal piping fitted with valves. The filters are operated under pressure where the water is passed through the under bed media and granular activated carbon layer. Moreover, the filters are provided with a back washing arrangement that easily flushes away the deposited impurity at filter medias.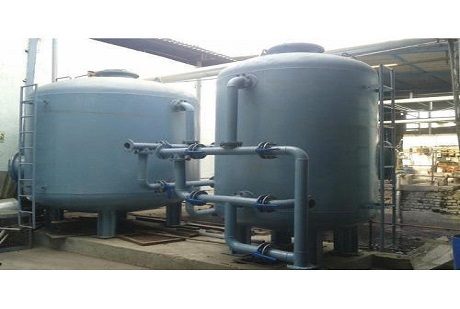 ---
D M PLANT
CLEAN AQUATO offers De-Mineralization Plants, are available in Two Types, Mainly Two Bed DM Plants and Mixed Bed DM Plants. However, DM Plants are also available with Weak Base & Strong Base Cation& Anion Exchanger. DM Plants are also available with Degasification System to remove alkalinity physically without using chemicals (Saves NaOH).
Mixed Bed DM Plants (MB) units are offered as a Polisher Unit to get conductivity less than 0.5 micro Siemens/cm or 0.05 micro Siemens/cm conductivity with 2 MB units in Series Clean Aquato Offers Standard DM Plantmms with FRP / Mild Steel Rubber Lining & SS 316 L (Quartz Lined) construction.
CLEAN AQUATO series DM Plants (Two Bed & Mixed Bed units) are available in various sizes having cation and anion exchanger unit with 200 mm to 2000 mm diameter with either Valves or Multi Port Valve depending upon the sizes and customer requirement.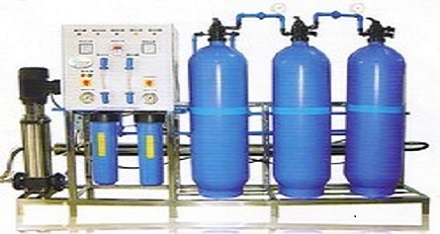 In Two Bed DM Plant, Strong Acid Cation Exchanger and Strong Base Anion Exchanger resin are used for reducing Total Dissolved Solids up to 2 - 5 ppm. To check the treated water quality at the outlet, conductivity meter is provided. Degasification unit is also provided to decrease the load on Anion Unit.
Mixed Bed Units are used in series with Two Bed DM Plant as a polisher unit which can produce treated water having conductivity < 1 µS/cm.
Cation Polisher Unit is also available to achieve Acidic Water Quality for Specific applications. DM Plant produces Treated water having Conductivity less than 10 µS/cm (for Two Bed) and less than 1 µS/cm with pH as desired.
---
ULTRAFILTRATION (UF)
These are systems based on separation process using membranes having pore sizes in range of 0.1 to 0.001 micron and provide assistance in removing colloidal materials, high molecular-weight substances as well as organic & inorganic polymeric molecules. The Ultra filtration membranes used in these systems have flux varying between 50 and 200 GFD at operating pressure of about 50 psig.
In the filtration process, Ultra-Filtration (UF) utilizes trans-membrane pressure differential for separating particles as per molecular weights. The raw water particles are smaller than pore of UF membrane get permeate and particles larger than UF membrane pore size get separated as concentrate under applied pressure.
This means that conventional UF membranes can capture all microbes and bacteria, and also viruses. Ultrafiltration has occupied an established position in water treatment sector: For example, as a rule the MBR process (membrane bioreactor) consists of an ultrafiltration system in tandem with a biological reactor, which replace conventional post-treatment.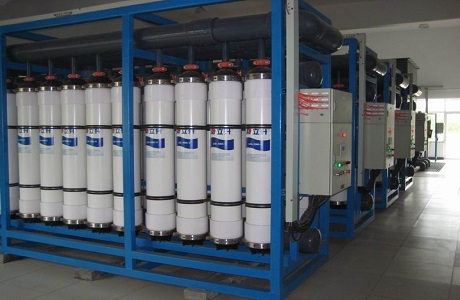 Drinking water treatment sector:

It allows the safe, high-quality conversion of differing types of raw water into drinking water. Moreover, ultrafiltration is steadily gaining in importance in the

wastewater treatment sector:

For example, as a rule the MBR process (membrane bioreactor) consists of an ultrafiltration system in tandem with a biological reactor, which replace conventional post-treatment.
UF Membrane Construction
It is asymmetric semi-permeable membrane made using high molecular material
It allows the safe, high-quality conversion of differing types of raw water into drinking water. Moreover, ultrafiltration is steadily gaining in importance in the The hollow fiber tubes are covered by micro-pores that allow solutions flowing in/out the membranes under influence of pressure
UF membranes have pore sizes from 0.1 to 0.005 µm for different applications
Advantages
The noted advantages of UF Filtration membranes include:
Require minimum pumping energy, thus providing saving on energy
Offering chemical resistance over wide PH range
UF membranes have pore sizes from 0.1 to 0.005 µm for different applications
Easy to operate & maintain with low investment costs
Recovery ratio up to 98%
Industry Applications
Some of the industries these are used in include:
Surface Water Clarification
RO Pre-Treatment
Waste Water Treatment